Skin Analysis
How it works
1 Identify your skin type by telling us about how it looks and feels, plus any concerns.
2 Take a photo using your live camera so we can virtually analyse your skin.
3 See your personalised skin report and products tailored to your needs.
Bespoke results, instantly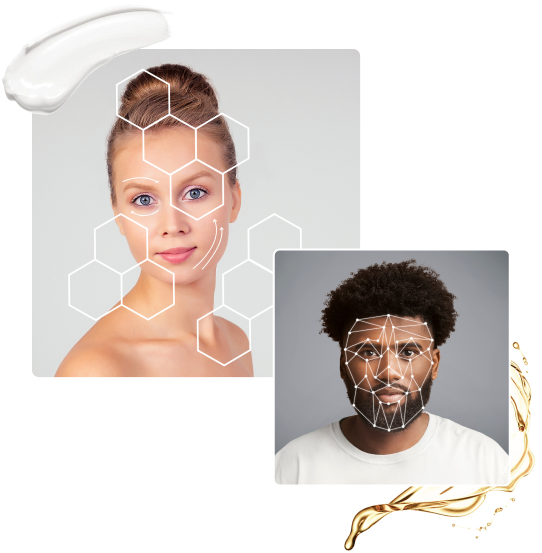 Bespoke results, instantly
Analysis based on the data of 30.000 real people
Personalised results within two minutes
Product recommendations tailored to you
FAQs
How does the skin analysis tool work?

Using a unique approach, our skin analysis tool combines statistical methods with computer vision algorithms – an advanced technology which can read and interpret digital images, such as a photo of your skin, and make recommendations based on the information. The analysis considers around 20 key metrics, along with more than 200 sub-metrics, to accurately deliver personalised skin routine recommendations, backed by science.

Is my data being stored?

Any data we collect about you during the skin analysis, including your results and photo, will be immediately deleted after we provide you with your product recommendations.

Can I save my skincare recommendations?

While we're unable to save your results and recommendations, you can choose to have the information sent to you via email.

Why do I need to take a photo?

Our skin analysis tool uses computer vision technology to analyse the photo of your skin, and produce a more accurate diagnosis and personalised recommendations. However, it is completely optional. If you'd prefer not to use a photo, just select the option to skip that step, and we'll ask you a few extra skincare questions instead to tailor your results.

Can I change my answers?

Yes, you can change your answers during the skin analysis by selecting the option to go back a step and resubmitting your answer. Alternatively, you can restart the skin analysis from the beginning, and select different answers where required.

Are the product recommendations medical?

While our skin analysis tool uses methods that are backed by science, any skincare advice and product recommendations given are not medical. If you have any concerns about using certain products or their effects, always check with a healthcare professional.

Shop by category

.